InTsikt 2018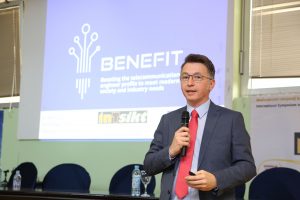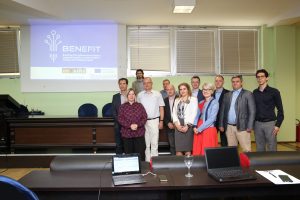 InTsikt is an annual event with a focus on latest achievements in information and communication technologies. It is plenary organized and focused on knowledge and experience exchange between academia and industry. The topic of InTsikt 2018 was "Bridging Digital Divide". InTsikt is prepared and organized by Faculty of Electrical Engineering Tuzla, Faculty of Electrical Engineering Ljubljana and BIT Center Tuzla, and technically sponsored by IEEE Section of Bosnia and Herzegovina. Total number of participants at InTsikt 2018 is 70.
In the scope of the first day program, prof. dr. Matej Zajc from University of Ljubljana presented general aims of project BENEFIT. The special session with the title "Education of modern telecommunications engineers: project BENEFIT" was organized on May 22, 2018 and included the following presentations:
"Introduction to project BENEFIT: overview and basic facts", mr. sc. Davide Righini, Alpe Adria University, Klagenfurt, Austria
"Profile of modern telecommunication engineer from industry perspective in Western Balkan Region", Prof. dr. Dejan Vukobratović, University of Novi Sad, Serbia
"Guidelines for modernization of telecommunication engineering Curricula", Prof. dr. Matej Zajc, University of Ljubljana, Slovenia
"Student internships and trainings in BENEFIT", Prof. dr. Mladen Koprivica, University of Belgrade, Serbia
"Internship opportunities for ICT engineers in Bosnia and Herzegovina", mr. sc. Seudin Kasumović, Bicom, Tuzla, Bosnia and Herzegovina
Students of University of Tuzla expressed their interest for the project, and had opportunity to exchange impressions with professors from partner universities.
Television of Tuzla Canton and RTV 7 reported about this event.
During InTsikt, University of Tuzla (UNTZ) and Faculty of Electrical Engineering and Computer Science in Osijek (FERIT) signed joint Memorandum of collaboration with the company AV Living Lab Ljubljana, Slovenia in the domain of autonomous vehicles.
Open event at the University of Tuzla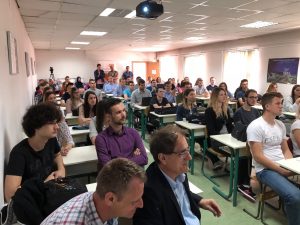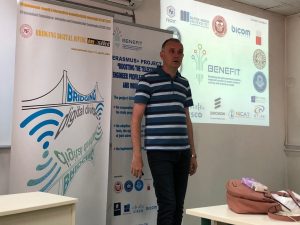 University of Tuzla organized an open event to present project BENEFIT to students and local community in Tuzla and Bosnia and Herzegovina. The event was organized at Faculty of Electrical Engineering on May 17 2018, the world day of telecommunications.
Prof. dr. Nermin Suljanović and prof. dr. Aljo Mujčić presented the scope of the project BENEFIT and aims, while doc. dr. Asmir Gogić provided more details on the development of joint lab with Bicom Systems. Vedrana Ajanović, BIT Center Tuzla, and Nerina Bolić, Bicom Systems, talked about internship opportunities for students of Faculty of Electrical Engineering Tuzla, in the scope of the BENEFIT project. ELEMEND, second Erasmus + project implemented at University of Tuzla, has also been introduced.
Television of Tuzla Canton reported about this event.
Students visit BENEFIT partners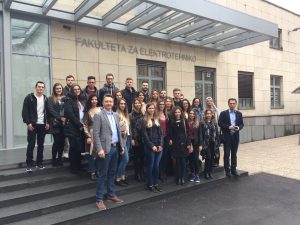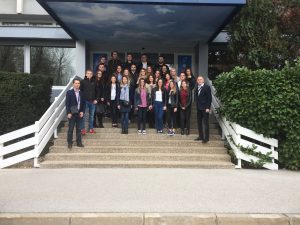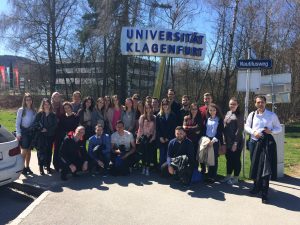 Students of the third and fourth year of telecommunication studies at University of Tuzla visited BENEFIT partners Ericsson Nikola Tesla Zagreb, University of Ljubljana and Alpe Adria University Klagenfurt. The three days study trip took place in April of 2018, from 4th to 7th. Experts at Ericsson Nikola Tesla in Zagreb presented their work environment, the most interesting projects in ICT they are working on and opportunities for the student internships in this company offered in BENEFIT project. Students are informed at University of Ljubljana and Alpe Adria University about undergraduate and graduate programs, study details and student life. In the scope of the visit, students also visited laboratories and participated in demo lab experiments.